Home - About - My Dogs - Litters - Links - News and Updates



News 2010
Yearbook 2010

Noor Inca
- nr 10 breeder of the Year dog-show
and that is based on the results of only one Noor Inca saluki

Noor Inca Alfa Romeo Visconti
- nr 7 at Top-10 Dog-show in Norway

*

29.12, Leto, Norway
Anette & Lupin did their debut at the christmas-show and what a debut
Lupin hated it and Anette hated it (se pic below), but together they did a good figure in the ring.
So good that the jugde, Leif Lehmann Jørgensen, Denmark, put them up as winner in the 4-6 months class.
In the best male they went second behind a lovely almost 9 months old boy
But we, me & the fanclub ringside, were happy, they did it!!
I'm really proud of you, Anette. No one ever believed you would go into the ring yourselv,
but you did and that made me really proud.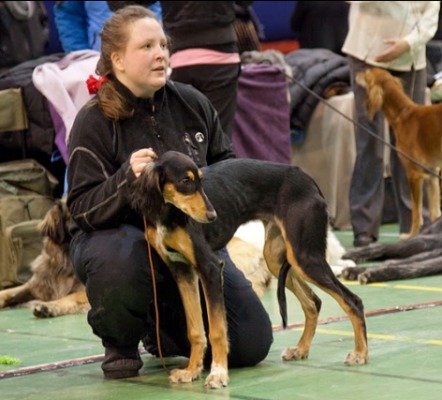 *photo: Erik Watz*

*

28.11, Gøteborg, Sweden
Klara & Calle was third from the Bar-litter showing paws in the ring and as the rest they did great
Under jugde Agneta Doverholt, Sweden Calle won his class, 4-6 months and ended up as second best male
Well done, Klara & Calle :)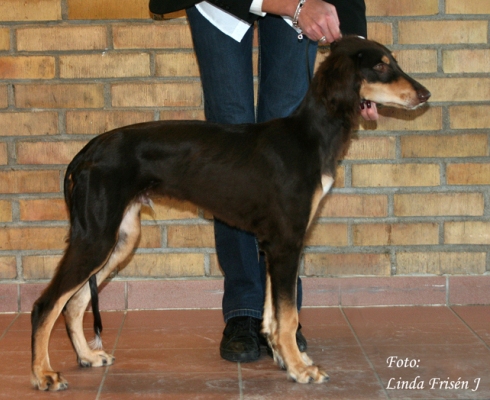 *photo: Linda Frisèn*

*

20.11, Eskilstuna, Sweden
Next from the Bar-litter in the showring was Nathalie & Ness
They went to a puppy-show in Eskilstuna, Sweden. Under jugde Tina Cedergren from Sweden Ness got BOB & BIG
In the BIS-final Ness thought it was time for running, running and more running "I'm a sighthound" she said,
so after hanging in there for almost placement she ran out of the ring with a happy face *lol*
I'm proud of you and glad the puppys show happiness in the ring, placement or not
I guess we will see more of you later on and next time I believe Nathalie will keep the right speed :)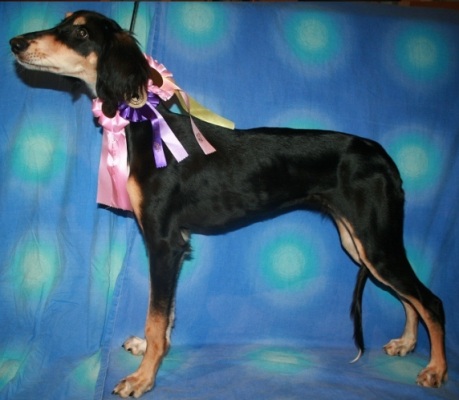 *

14.11, Stord, Norway
Synnøve & Caius did their debut in the showring with great results
Under jugde Henrik Johansson, Sweden Caius got placed as BOB puppy
Later on in the group he got placed BIG-2 puppy under jugde Matti Tuominen, Finland
This was a nice start on what I hope will be a wonderful show-career
I'm proud of you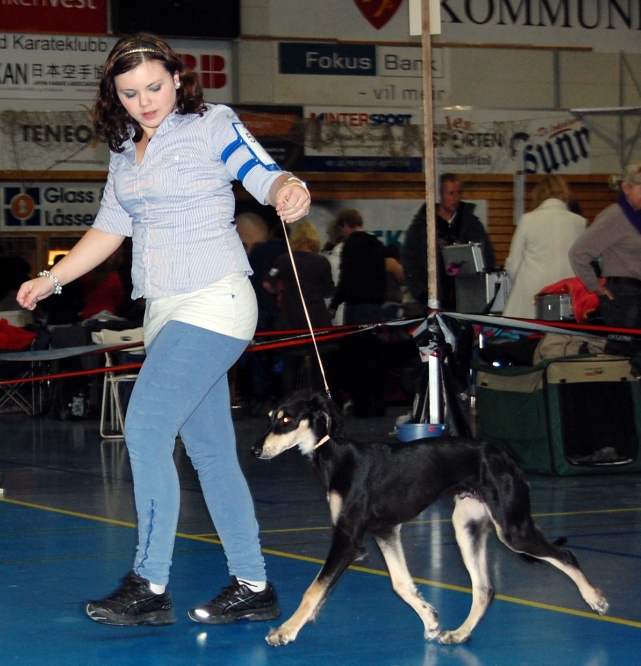 *

31.10, Leto, Norway
Again Whisky & Renata did great in the showring
Under jugde John Muldoon, Irland Whisky got first BOB and then BIG-3
You still make me proud and it's a pleasure seeing you in the ring together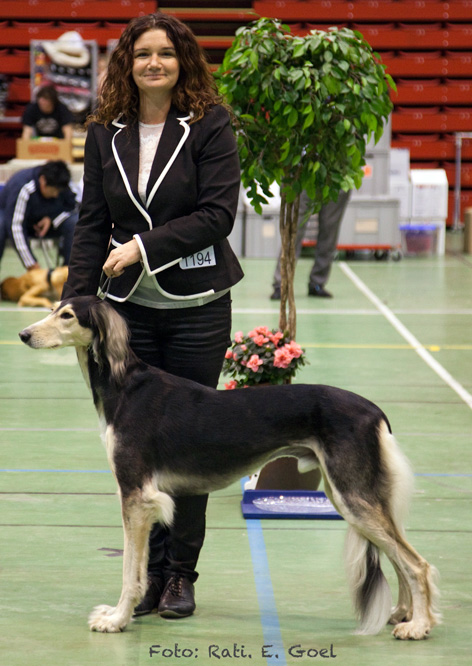 *

09.07, Tvååker, Sweden
The phone rings and in the other end, an excited Renata. Whisky got placed as BD-2 and got the swedish CAC which made him SE UCH
He also got the R-CACIB, and since the BD-1 already is INT UCH the R-CACIB will become a CACIB which means
...Whisky became INT UCH* (not yet confirmed by FCI*)
All under jugde Roel van Veen-Keur, Netherlands
Many, many thanks, Renata, for showing Whisky so well. I'm almost speachless, but only almost :)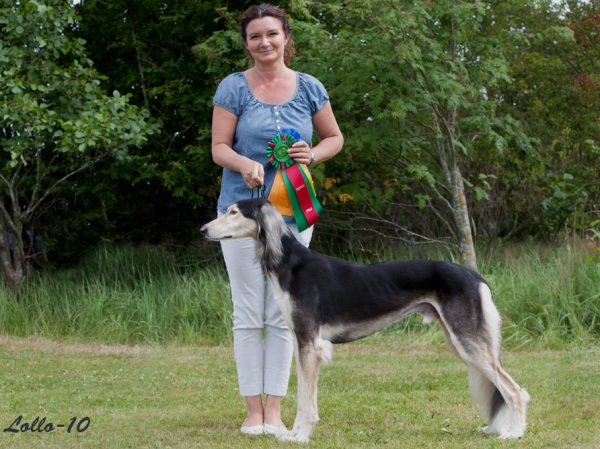 *

Zeta's puppies, the Bar-litter, has arrived
The litter can be seen here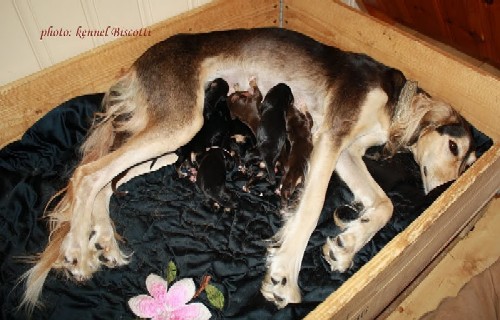 *

Finally she has arrived
Please welcome "Hottie", Xanadu Farms Red Hot Dollar SM, all the way from USA to Norway
Thank you, Alison, for letting me have this beauty :)
Hottie's own page can be seen here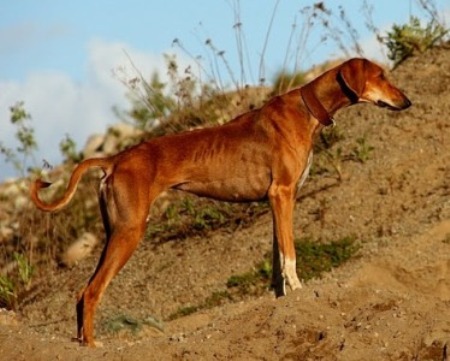 *

11.04, Moita, Portugal
One more show NIAR Visconti manage to participate in before leaving for Norway, this time in Portugal
Ups he did it again and got BOB, CACIB and BIG. This is Whisky's third CACIB
One more, Whisky, just one more....
Anyway I'm proud of you. Thanks Renata & Erik :)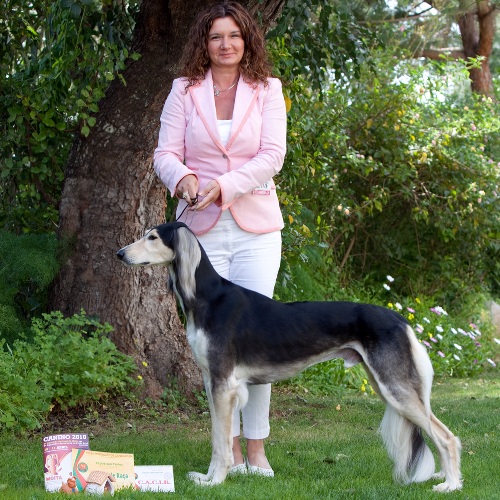 *

28.03, Vigo, Spain
As usual Easter holidays was spent in Portugal also this time with a show in Spain
NIAR Alfa Romeo Visconti did the same procedure as last year and got BOB with CACIB
But this year "Whisky" took another step up and also got BIG, all under jugde Francisco Ruiz Rodriguez, Spain
What a joy! Again and again you make me very proud, Renata & " Whisky"
Thank you :)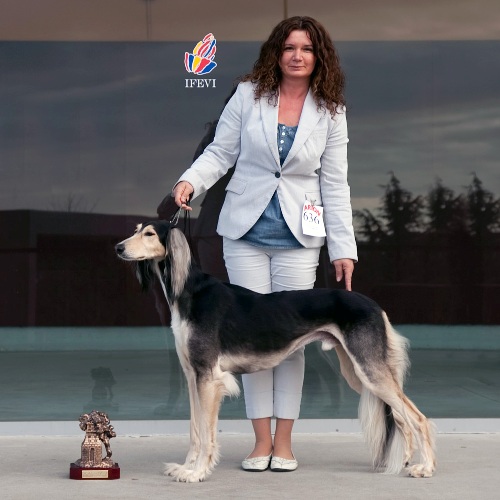 *

16.01, Leto, Norway
Whisky started the first dogshow of the year with great results
Under jugde Nils Molin, Sweden he first went BOB, then in the groupfinal the same jugde put him up as BIG-1
Best In Show was jugded by Frank Christiansen, Norway and when the speaker announced "the saluki" as BIS-2 I "almost died"
WOW, what a way starting a new year of dogshows, Whisky!
Big congrats to owner Renata, make this a trend will you :)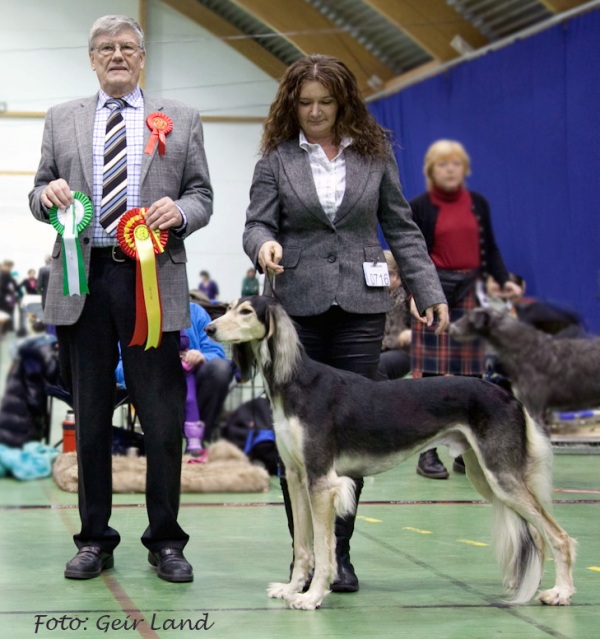 *